Elementary Classes
Areas Stressed:
Study Guides are available online for each chapter that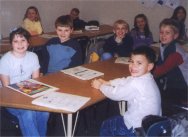 your child is studying in class. This is an excellent way for your child to review key lesson concepts and/or to study for a test.
Click on www.sadlier.com
Click - We Believe
Click - Study Guides
Click - Family/Family Lesson Resources/Grade. Now you can find word scrambles, keyword activities, cross word puzzles, matching activities and other fun online activities for the faith unit your child is studying.
1st Level

Basic Prayers
Who God is
Who Jesus is
What Church is
Jesus' love
Church seasons

4th Level

Ten Commandments
Eight Beatitude
Works of Mercy


2nd Level

Seven sacraments
Law of love
Sin/sorrow
Commandments
Reconciliation
Liturgy of the Word
Liturgy of the Eucharist
Mass
Church seasons

5th Level

Seven Sacraments
How the Trinity relates to the Sacraments
The Liturgical Year

3rd Level

Jesus as friend
The Holy Spirit
Community and parish
Mass parts
Mission of the Church
Marks of the Church
Church seasons

6th Level

The Bible (Old Testament)