Leadership-Wide Summer Book Read
What if everyone read the same faith-based book and then joined
all those readers in talking about it?
Welcome
Welcome to the online site for the St. Vincent de Paul Leadership-Wide Summer Book Read. The book discussion and dinner will take place July 15, Tuesday, 6-8:30 pm, in the East Meeting Room. To prepare for the discussion, everyone in the parish leadership (staff and volunteers) is invited to read "The Joy of the Gospel: Evangelii Gaudium" by Pope Francis. Copies of the book are now available for $10 in the parish office.
Between now and July 15th – stay tuned to this site for connections to "Joy" features; discussion questions; and announcements.
Happy Reading! – Pastoral Council
---
About the Book
The Joy of the Gospel (Evangelii Gaudium) is the long-awaited teaching of Pope Francis on the proclamation of the Gospel. Pope Francis is calling upon the Church and the world with encouragement to begin a new chapter in evangelization - one marked by enthusiasm and vitality and, most especially, joy. This dynamic document is written in the plain, everyday language for which the pope has become famous. (USCCB)
---
Pope Francis
Is the first pope...
· From the Americas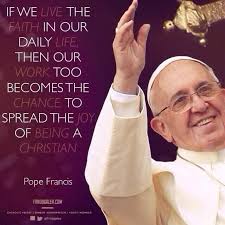 · From the Jesuit order
· To take name Francis
Is known to...
· Take the bus and subway
· Cook his meals
· Have strong devotion to Mary
· Visit the poor
· Be very spiritual
· Have low-key style
· Love soccer and tangos
Speaks
· Spanish, Italian, English, French and German.
(USCCB)
---
Summer Book Read, supported by the Pastoral Council, encourages leadership-wide reading of faith-based books to foster a greater understanding of our religion, and to provide an opportunity for people to come together through the reading and discussion of a common book.
What if all of St. Vincent de Paul read the same book?